Who is my Neighbour?
Oxford Terrace Baptist Church Community Housing Project "Stage Two" added two wings to the rear of the existing build. It comprises eight three-level, four-five bedroom apartments, and three two-bedroom, single level fully accessible apartments. 11 in total, with three floors of further office space for 'like-minded' charities.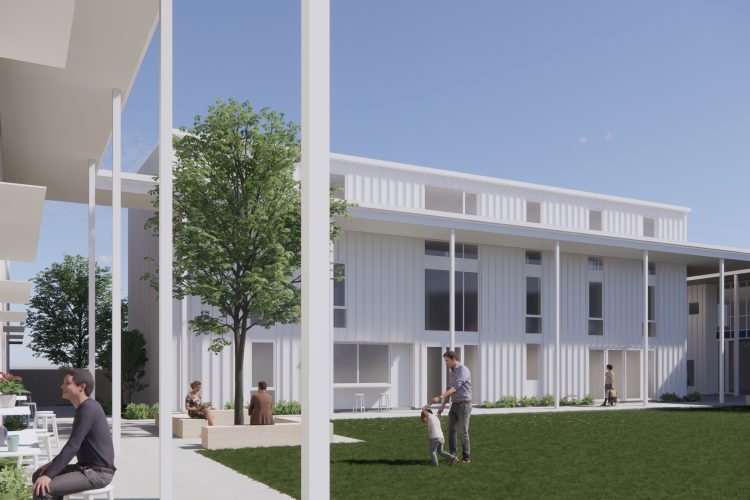 THE ORIGINAL VISION.
Ten years ago in 2010-11 there were a series of terrible earthquakes in Canterbury. The central city of Christchurch in particular was severely impacted. The Oxford Terrace Baptist Church was left with an insurance payout and a mess of rubble. The church eventually undertook a careful vision clarification exercise, one that led us to discernment of our reason for being, summed up in three words:
• People (those who are here now, and those who are yet to arrive);
• Location (central city Christchurch and beyond);
• Renewal (we have historic strengths to be rediscovered, and we are open to the work of the Holy Spirit).
A MODERN DAY MONASTERY.
This vision clarity allowed us to settle our 'brief' with much more certainty as we engaged with our architect. We wanted to create an oasis in the centre of the city, a multi-use complex where the various uses all 'banged into one another'. We wanted to create a space where people were working, worshipping and living.
CHANGE REQUIRES VISION.
The vision of the church is being fulfilled, as we pursue obedience to what we see as a prophetic response to the clear and obvious social issue of our day: housing justice.
As the church, how can we possibly do nothing? It is clearly stated in the scriptures that the heart of God is inclined towards the poor. Is this not about housing?
Who in Aotearoa-New Zealand are the contemporary expression of the widows and the orphans and the outsider? Is this not about housing?
How do we answer the question of Jesus about who our neighbour is? Is this not about housing?
Herein lies the heart of our housing vision.
HOW YOU CAN HELP.
Thank you for participating in our housing project! By giving to this, you are engaged in responding to the crisis of our times in Aotearoa New Zealand: housing.
To make a donation, please give to the Oxford Terrace Baptist Church bank account: 01-0806-0029910-00 (Reference: Housing Project).
Please email your name and contact details to office@otbc.org.nz to receive a tax donation receipt.
THANK YOU FOR GIVING.
If you would like to know more read OTBC STAGE TWO BROCHURE or contact bradley@otbc.org.nz