ORGAN CONCERT
Saturday 2:00pm - May 21, 2022
OXFORD TERRACE BAPTIST CHURCH - 286 Oxford Terrace (Corner of Oxford Terrace and Madras Street)

Concert in aid of the Church's social housing building project.

Tickets: $25 (purchased at the door on the day)

Jeremy Woodside (Wells Cathedral and Westminster Abbey)
Featuring music of: Walton, Bach, Duruflé and the NZ premiere of a new major work by David Bednall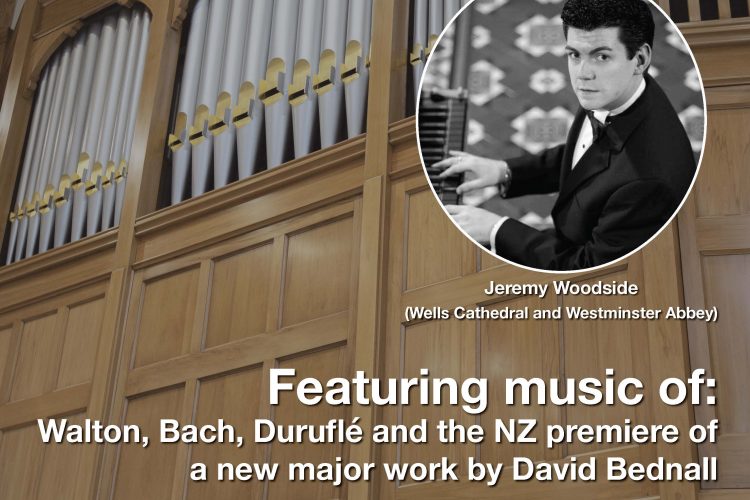 JEREMY WOODSIDE (Wells Cathedral and Westminster Abbey)
Jeremy was born in Christchurch, New Zealand, and his musical life began as a chorister at Christchurch Cathedral; he was later Assistant Organist. He has held organ scholarships at Wells Cathedral and Westminster Abbey and has directed and accompanied many choral societies and choirs.
In 2011, Jeremy directed the Cathedral Choir for the National Memorial Service in Hagley Park following the February earthquakes, in the presence of HRH Prince William. He also gave a number of solo recitals throughout Europe to raise money for the cathedral's appeal and has released three solo CDs on the Christchurch Cathedral organ.
Jeremy graduated as a Bachelor of Music (First Class Honours) from the University of Canterbury, and while there was awarded the Lilburn Prize for composition and Madrigal Prize for Excellence in Vocal Music. Later he completed a Masters in Organ Performance at the Sydney Conservatorium of Music. In August 2013, he gave the inaugural recital at the Transitional
Cathedral in Christchurch.
His organ tutors have included Daniel Moult, Thomas Trotter and David Briggs, and Jeremy gained his Fellowship in Organ Performance from Trinity College, London in 2009, and holds an Associate Diploma from the Royal College of Organists. As a recitalist/accompanist, he has performed in many major UK cathedrals, St George's Chapel Windsor, Notre-Dame in Paris, as part of the International Organ Summer Festival in Rome, and the Musikverein in Vienna.
Recent engagements include Westminster Cathedral, Malvern Priory, Christ Church Priory Dorset, St Andrew's Cathedral Sydney, Westminster Abbey, Saint-Saens' 3rd "Organ" Symphony with the Christchurch Symphony Orchestra in Christchurch Town Hall, St Paul's Cathedral Melbourne, and Esplanade Singapore as part of Tapestry: a festival of sacred music.
From September 2015 – March 2018 Jeremy was Head of Keyboard and Organist at Repton School.
Jeremy regularly performs with the Christchurch Symphony Orchestra, both as a soloist and orchestral player. He is an active composer with various pieces being published by the RSCM, SOUNZ and Crescendo Music Publications in Melbourne, Australia, is the current accompanist for the Christchurch City Choir and a repetiteur for Toi Toi Opera.