Classical Jazz Quartet Fundraising Concert
Saturday 7:30pm - November 26, 2022
OXFORD TERRACE BAPTIST CHURCH - 286 Oxford Terrace (Corner of Oxford Terrace and Madras Street)

Concert in aid of the Church's social housing building project.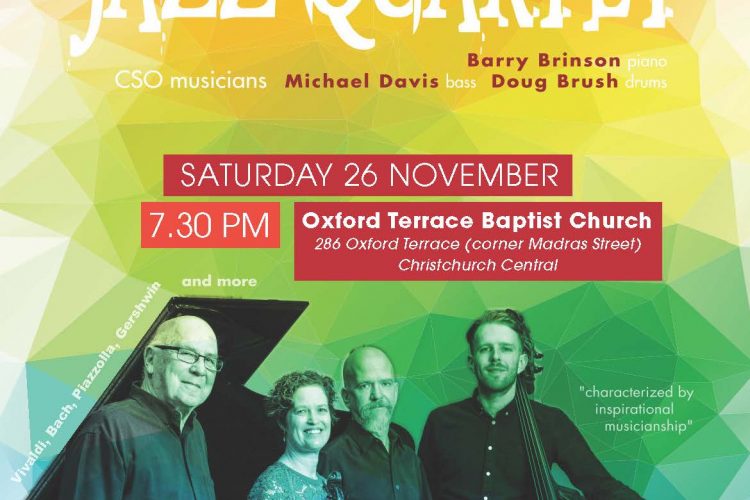 Classical Jazz Quartet Fundraising Concert
Saturday 7:30pm – November 26, 2022
Adults $25 – Children (5-17) $10
Advanced Tickets purchased from the Church Office, door sales available.
The 'Classical Jazz Quartet': Cathy Irons (violin), Barry Brinson (piano), Michael Davis (double bass) and Doug Brush (drums)
From a dazzling display of virtuosity to intriguing sultry warmth, from mellow moments to upbeat swing, this concert will keep you smiling into the weeks ahead!
Described as "sonic fireworks that dazzle with all their brilliance" and "characterized by inspirational musicianship," the Classical Jazz Quartet brings an eclectic mix of music – from the swing era to their own creative and imaginative adaptations of classics, infusing them with toe tapping rhythms and jazzy harmonies.
Join CJQ on their musical journey, beginning with the Baroque era re-imagined – Bach's famous Toccata and Fugue, to the wild Argentinian-Spanish rhythms of Piazzolla, passing through the greats of Gershwin including It Ain't Necessarily So and Summertime, and laced with a handful of jaunty jazz standards.
CJQ consists of four outstanding Christchurch musicians. Cathy, Barry, Michael and Doug, each revel in getting together, ignoring convention and freely cross the boundaries of music with conviction and delight. All have extensive NZ and international experience.